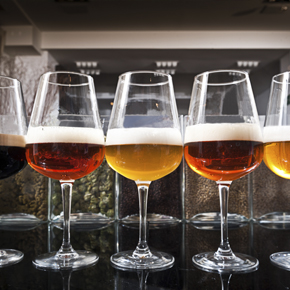 Both sophisticated and accessible in its appeal, beer offers a whole world worthy of being discovered: a myriad of types, flavours, styles and personalities. Beer in all its forms is undergoing a renaissance, as a new generation of men and women are attracted by its versatility.
A rich history and heritage.
Beer has been around since the ancient Egyptians consumed it, with everyone from Pharaoh to peasant drinking a sweet brewed concoction to sustain them every day. Medieval monks were among the first organised modern brewers, sustaining pilgrims with the hop-infused libations in which they famously specialised. And during the Industrial Revolution, urban populations drank a weak brew called "small beer" instead of water because before the 20th century it was generally safer than the drinking water.
And since then beer has continued to expand and diversify throughout the world and there is an enormous range of beer styles on offer today, from lager to Indian Pale Ale. Its history, heritage and variety offer a whole world of learning, experience and opportunities around such a rich drink.
---
New trends
Beer is one of Mother Nature's best-kept secrets, rediscovered by us modern-day consumers as we become increasingly aware about what we consume.
---
Taking on this trend, restaurants are organising beer tastings to allow people to find out about beer types and pairings; new flavours appear in the market to adapt to new demands and new tastes in such a fast and changing society and breweries open their doors to let people discover the master brewer's art.
A drink for all seasons
So how can something with such deep roots in history, associated with mysterious monastic orders, and whose very names tell stories (Trappist, Abbey, Porter, India Pale Ale, Imperial Stout), not evoke your curiosity? So what is it about this variety that makes it so interesting?
A chilled lager is still perfect for quenching a summer thirst or enjoying a chat with friends around a plate of nice food. But even within "lager" there is huge variety. There are Pilsners, Specials, Extras, Bocks and Blacks, all with subtly different flavours, colours, strengths and consistencies.
There are rich nutty Ales, deep coppery Abbey beers, fruity Lambics and liquorice black Stouts to savour by the fireside when nights draw in.
---
Did you know that…

Indian Pale Ale or IPA, is a variety that emerged during the British Imperial rule in the sub-continent. The extra hops that give it its distinctive bitter or floral taste, helped preserve beers during the long sea-journey from Britain. Something else is now preserved over 200 years later: the harmonious taste for ale with spicy food.
---
There are even spicy Christmas Beers, specially brewed to celebrate and accompany the aromas and flavours of the season.
And when spring comes, try a golden Wheat Beer to toast the return of nature's promise.
With so many tastes, types and styles, it could take a lifetime to discover the full promise beer holds. That intriguing Trappist beer that catches your eye on the beer menu can always be tried next time you visit the bar. They've been brewing since the Middle Ages. It will still be ready when you are…
But you don't really need to know any of this to explore beer in all its diversity. Just follow your taste, nose, eyes and heart for what feels right for the moment. Enjoy discovering and love beer.